Annual Meeting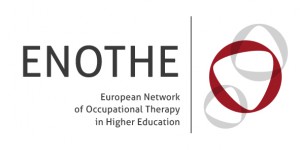 Each year since 1995 ENOTHE has run an Annual Meeting. This has been a time when Professional Occupational Therapists, Academic Occupational Therapists and Student Occupational Therapists can meet and network from across Europe.
Key themes and challenges are presented in keynote talks. The development of Occupational Therapy is discussed throughout. And it is also a great platform for work to presented in Oral Presentations, Workshops and Posters.
This traditionally has been a fantastic opportunity to share work, seek collaborations, raise program profiles and for students a brilliant opportunity as a stepping stones towards scientific conferences.
As a European Network, we are continually seeking hosts for Annual Meetings from right across Europe. Hosting provides a great opportunity to raise the profile of your Occupational Therapy program, highlight challenges you maybe facing at local and national level to an interested audience and to a Network focused on informing Health and Social Care policy. It also allows your institution to show off, raise its own profile, which in turn can directly lead to increases in exchanges both for academics and students.
Check out where we have been so far…
 

2016




COTEC-ENOTHE




Ireland, Galway

2015


Bulgaria, 


Ruse

2014


The Netherlands, 


Nijmegen

 

1995
Denmark,
Copenhagen

2013


United Kingdom, 


York

1996 




Spain,

Madrid

2012




Lithuania, 

Vilnius

1997




Germany,

Essen

2011




Belgium, 

Ghent

1998
United Kingdom, 
York

2010




Sweden, 

Stockholm

1999
Slovenia, Ljubljana

2009




Spain, A Coruña

2000




France,

Paris

2008
Germany, Berlin

2001




The Netherlands, Rotterdam

2007




Ireland, 

Cork

2002




Portugal, Estoril

2006




Turkey, Ankara 

 

2003




Czech Republic, Prague

2004
Greece, Athens

2005




Austria, Vienna