Marie-Antoinette Minis OT4OT Presentation
Our very own Marie-Antoinette Minis (President of ENOTHE) will be presenting at OT24Vx on World OT Day.
Title: INNOVATIVE TEACHING METHOD AND LEARNING EFFECT ON OT STUDENTS
Presenters: Marie-Antoinette Minis (Senior teacher and President of ENOTHE) and Marlies Nijenhuis (OT student and President of SPOT)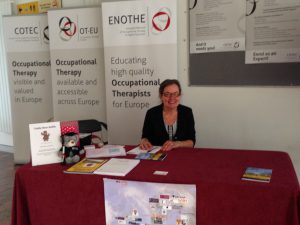 The aim of the presentation is to give inside in an innovative way of teaching OT students at the HAN University of Applied Sciences, Nijmegen, The Netherlands. Students will demonstrate how they learn by choosing their own assignments in a real context. This new teaching method includes the triad of education, research and practice, which makes students more ready for practice.
Learning outcomes:
Understanding of how the learning environment contributes to the development of OT  students.
Understanding how the ability to choose assignments influences the motivation of students. Students as partner of the teacher, using self-directed learning and responsibility.
Exchange of ideas with the audience about this new teaching approach/learning environment.
Click here for the details of the programme and how to join.