Citizenship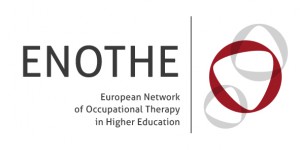 ENOTHE Citizenship Project Group
Progress Report – 'Summary of activities October 2012 – October 2015:
2013 was the European Year of Citizens. On behalf of ENOTHE Board and Office, the present group was founded to explore the position of occupational therapy research, education and practice in relation to citizenship, from October 2012 to October 2013.
Following the group's proposal the ENOTHE board agreed that the group continue to work as an ENOTHE project group for a further two years from October 2013 to October 2015.
The annual reports for 2014 and 2015 outline the work of the group during these periods'.
'Proposed Activities for Extended Period until October 2016:
…request to extend the time period of the group for one further year in order to complete the following activities:
Scoping Review (2 journal articles) (proposed submission date October 2016)
Book chapter for book 'Occupation based Social Inclusion' (submission date December 2015)
Presentation at COTEC/ENOTHE conference 2016 (June 2016)'