2nd COTEC-ENOTHE Congress Czech Republic '20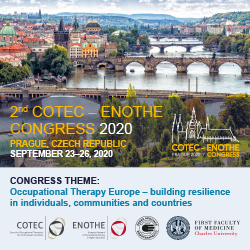 We are pleased to invite you to the 2nd COTEC – ENOTHE CONGRESS 2020 to be held in Prague – September 23–27, 2020!
The congress theme is focused on the topic of building resilience in individuals, communities and countries in the context of the Occupational Therapy in Europe.
Our intention is to organise an event full of inspiring ideas where OT´s can share knowledge, discuss experiences and enjoy unforgettable moments of partnership.
IMPORTANT DATES & DEADLINES
Abstract submission opening: April 15, 2019
Abstract submission deadline: October 14th, 2019 (extended)
Abstract acceptance decision: December 2019
Registration opening: January 2020
Early registration deadline: June 2020
Call for Abstract Reviewers
Reviewing abstracts is a crucial part of preparing the Scientific Program of the conference, and your contribution would be much appreciated. As an abstract reviewer you will have the chance to ensure the scientific quality of content to be presented at the COTEC-ENOTHE 2020 Congress which will be held in Prague September 23-26, 2020.
Each abstract will be reviewed by two reviewers and each reviewer will have no more than 15 abstracts to review and score. Reviewers will evaluate the abstracts using a simple scoring system, for any of the oral presentations and poster presentations. ExOrdo will be the abstract handling tool used.
The review process will be conducted in October- early November 2019 and consists of reviewing about 10-15 abstracts.
If you would be available for abstract reviewing, please fill in the nomination form through this link .
Should you wish to hear more about the reviewing, please contact cotec-enothe2020@oteurope.eu before September 20th, 2019.
The selected reviewers will be notified by 28th September at the latest
For more information, please access the congress webpage HERE. 
We look forward to meet you in Prague!