2nd COTEC-ENOTHE Congress Czech Republic '21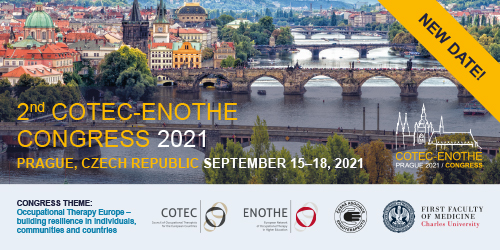 2nd COTEC-ENOTHE Joint Congress, Prague, Czech Republic, Postponed to September 15-18 , 2021.
The congress theme is focused on the topic of building resilience in individuals, communities and countries in the context of the Occupational Therapy in Europe.
Our intention is to organise an event full of inspiring ideas where OT´s can share knowledge, discuss experiences and enjoy unforgettable moments of partnership.
For more information, please access the congress webpage HERE. 
Access Registration webpage HERE
Information for interested partners and exhibitors HERE
See you in Prague!!!