Board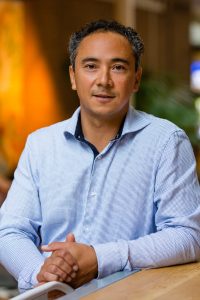 Soemitro Poerbodipoero (MSc, BScOT)
Role: President
What is the main achievement of your career in OT?
My main achievement so far is realizing internationalization 'at home' and 'abroad' for OT students and OT educators in our Faculty of Health and in the international context with mainly ENOTHE and Erasmus partners. By setting up sustainable international policy guiding and strengthening OT education, seminars for teachers, mobility weeks for students, international thesis projects, internships and international partnerships, I try to contribute to improving OT education.
What I have to offer to ENOTHE:
I would like to use my international experience, my knowledge, my networking and strategic skills, and my open attitude towards OT to contribute to the future of ENOTHE. I am here to represent and advocate you: the members of ENOTHE. Bridging education to practice and research – the east to the west and the south to the north. I advocate strongly for student participation in ENOTHE and the further developments of Students Platforms in OT (SPOT).
What are your dreams concerning the future of ENOTHE?
My challenge and ambition will be to enhance students' programs in ENOTHE, foster education and discussion on diversity, social inclusion, transformation and intercultural competences within an ENOTHE Academy. Increasing -international mobility abroad and at home by supporting strategic and innovative methods and foster the development of members projects shaped from expertise within ENOTHE, COTEC, ROTOS and the future OT Europe. Bridging the West and North with especially Southern and Eastern Europe and the global South will make future OT's the interprofessional translators and cultural brokers we very much need now and in the future.
---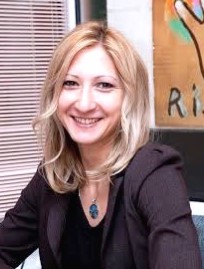 Dr. Maria Kapanadze
Role: Vice-President
What is the main achievement of your career in OT?
My task as a Research Professor at the University School of Nursing and Occupational Therapy of Terrassa (Autonomous University of Barcelona) enables me to strive to provide better OT education through coordination tasks, innovative teaching and research. I graduated as BSc OT from Ilia State University's (ILIAUNI) European Project, pushed by ENOTHE. This education permitted me to contribute to the project development and establishment of OT role in Georgia. My professional experience in Spain includes the creation of projects in social settings with vulnerable populations. I received PhD from the University of Girona, with an international mention from the University of British Columbia. My research interest belongs to social determinants of health, mental health workplace policies, ethical aspects of occupation, moral identity work, and recovery-oriented practices.
What I have to offer to ENOTHE:
My passion and enthusiasm for generating innovative projects, research and teaching. The strategic thinking through action and strong teamwork are my management aspirations. I've used to collaborate with OT-circles worldwide, especially Eastern and South Europe, and Canada, and other professionals. I can offer networking as a skill, having fluency at least of 5 languages.
What are your dreams concerning the future of ENOTHE?
I share the values of the cross-border strategy design, that foster interprofessional, intercultural, and international research, education and praxis. I see sustainable educational actions with social impact, participatory action approaches, and knowledge transference as the vision and tools. The inter-ACTION of the students of different levels and with diverse abilities in the digital era of networking is our future. I believe the strategic partnerships are necessary to re-invent ourselves in front of the 4th Industrial revolution among other needs of contemporary reality.
---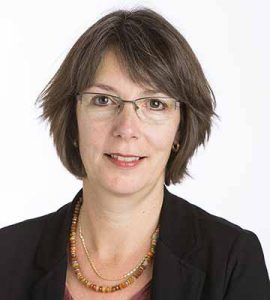 Ursula Gubler Thomann (DipOT)
Role: Treasurer
What is the main achievement of your career in OT?
To manage and lead the transformation of academics, in order to enhance OT-education in the German part of Switzerland. One part was to create an up to date OT bachelor curriculum in collaboration with an engaged disciplinary and interdisciplinary team.The other part was to involve the practice partners in the new education and support to bridge the gap between OT's with a Bachelor Degree and OT's without. And of course to be voted for the ENOTHE Board.

What I have to offer to ENOTHE
My experience in organization development, management and leadership and my energy to support OT in Europe in becoming one voice to take part in the important political discussions of the time (for example with WHO). Also, the passion I have for international cooperation within OT education.
What are your dreams concerning the future of ENOTHE?
ENOTHE could / should be a platform for sharing knowledge in the OT education in and outside of Europe. The success and quality of occupational therapy will be more and more known and will  influence in the medical health sector and in the community based areas and more.
---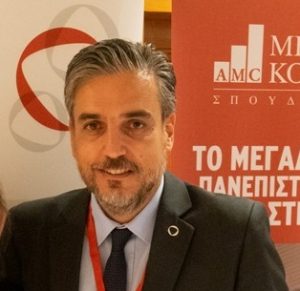 Dr. Panagiotis Siaperas
Role: General Board Member (and representative to ROTOS)
What is the main achievement of your career in OT?
I have done my studies, research and clinical work both in Greece and in the United Kingdom. I have received a doctorate from the University of Cambridge with scholarship from the Greek Government with the main focus of my research on Autism Spectrum Disorders. My research interests are on Autism Sensory Processing Disorders, Developmental Disorders and school based Occupational Therapy. I have teaching experience with undergraduate and postgraduate students both from UK and Greece, I was from 2012 to 2019 founder Programme Leader at the Bsc. (Hons) Occupational Therapy, which is delivered for first time in Greece by Metropolitan College and Queen Margaret University of Edinburgh. Today I am programme leader of the Msc. Rehabilitation Studies delivered in Athens from Metropolitan College and Oxford Brookes University and Coordinator of the newly established for research Institute of Occupational Science & Rehabilitation by Metropolitan College in Greece.
What I have to offer to ENOTHE
My experience of working and collaborating with Occupational Therapists and other professionals both in Europe and the USA. In addition, my involvement in practicing, researching and communicating inter-professionally will help to create bridges with other professional and educational organizations. My interest in Occupational Therapy research will contribute in research education and the development of ROTOS the Research part of Occupational Therapy Europe.
What are your dreams concerning the future of ENOTHE?
To expand our network into different countries and educational institutes particularly those who for various reasons are not ENOTHE members. Promote the communication and partnerships between different institutions, increase involvement at ENOTHE activities with students and academics.  Elaborate on evidence based practice and the education of Occupational Therapists. Moreover, work towards the development of OT-Europe and participation of ENOTHE.
---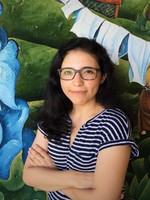 Dr. Lisette Farias Vera
Role: General Board Member
What is the main achievement of your career in OT?
Being promoted as Assistant Professor at the Division of Occupational Therapy (OT), at Karolinska Institutet (Sweden), taking on the role of ENOTHE board member, and being a member of the internationalisation group at my division. These roles involve strengthening OT education, leading pedagogical innovations and transformation of the OT curriculum to respond to global challenges, and fostering discussions regarding diversity, collaboration, and intercultural awareness.
What I have to offer to ENOTHE
My experience of studying and working with diverse occupational therapists and programs in North and South America, and Europe. In addition, I have collaborated in diverse international projects which have provided me with opportunities to gain experience in innovative methods, as well as build partnerships with practitioners, organizations, and researchers. Building on this work, I hope to contribute with my skills and what I have learned abroad to support students and peers in their educational development and projects.
What are your dreams concerning the future of ENOTHE?
To support ENOTHE development as a platform that enables collaborative work and knowledge exchange between their members and beyond to enhance OT education. I would also like to see ENOTHE as supporting OT Europe to respond to future professional and societal challenges.
---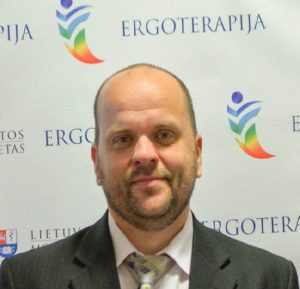 Sigitas Mingaila 
Role: General Board Member
What is the main achievement of your career in OT?
Successful clinical work as an occupational therapist. Research about occupational therapy with patients with neurological disorders. Teaching occupational therapy. Head of Occupational Therapy Program at Lithuanian University of Health Sciences. Taking on the role of ENOTHE board member.
What I have to offer to ENOTHE?
Experience gained in designing a study program of occupational therapy and maintaining its sustainability in "new" countries. Collaborative experiences among studies, science and practice.
What are your dreams concerning the future of ENOTHE?
To have more occupational therapy training institutions to be members of ENOTHE. That by members participating in ENOTHE activities it would reduce the distinction between new and experienced countries. Increased role of ENOTHE in expanding the role of occupational therapy in new areas, especially in countries with less experience in occupational therapy.
---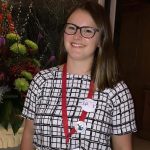 Vanessa Röck
Role: Student Board member
What is the main achievement of your career in OT?
Being part of ENOTHE and SPOTeurope and having the possibility to represent the student's voices within these two boards. Furthermore, starting with the European Master in Occupational Therapy and graduating the Bachelor Program from the Health University of Applied Sciences Tyrol where I have already had the possibility to be included in research projects and to complete one of the first internships with refugees and asylum seekers in Tyrol/Austria.
What I have to offer to ENOTHE
Bringing in my passion for internationalization, the perspectives of students and my enthusiasm for innovative ideas. Moreover, during my studies I have experienced the power of an enriching collaboration between students and lecturers which I would like to share.
What are your dreams concerning the future of ENOTHE?
An equal partnership between SPOTeurope and ENOTHE and therefore a strong collaboration between students and lecturers in order to prepare OT students for the future. Another dream would be that member universities support their students to take part in international events and creating miniSPOTs.

---
ENOTHE Office
(non-board role)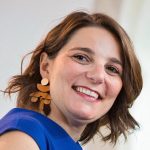 Marta Figueiredo (BScOT)

Role: ENOTHE Coordinator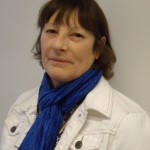 Mandy Boaz (MSc, Dip.COT, PCAP, FHEA)

Role: ENOTHE Finance Administrator