Hanneke van Bruggen Lecture
The Hanneke van Bruggen (HvB) Lecture was created at the 17th Annual ENOTHE Meeting at Ghent – Belgium, in honour of Hanneke van Bruggen then, the outgoing Director of ENOTHE.
In creating the Hanneke van Bruggen Lecture, the ENOTHE board wished to recognise and honour Hanneke Van Bruggen for her unending dedication and outstanding work in promoting occupational therapy in Europe and internationally.
The Hanneke van Bruggen Lecture is held once a year during the ENOTHE Annual Meeting and is awarded to an Occupational Therapist working in Europe, preceded by member nominations directed to the ENOTHE Board.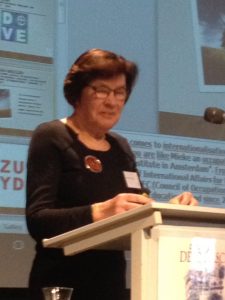 Want to nominate for the HvB Lecture? Consult the updated guidelines and send to info@enothe.eu the updated nomination form. 
HvB Lecture Nomination Information (update 2023)