History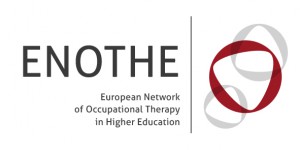 The European Network of Occupational Therapy in Higher Education was founded in 1995 within the framework of the European Union on the initiative of COTEC (Council of Occupational Therapists for the European Countries) with financial support from ERASMUS.
ENOTHE was a thematic network, which was originally funded by the European Commission, Socrates / Erasmus programme: Thematic Network Projects from 1997.    The main aim of the thematic network was to enhance quality and define and develop a European dimension within a given academic discipline, or other issues of common interest, through co-operation between university faculties or departments, academic and/or professional associations, employers and client-organisations. This co-operation was expected to have a lasting and widespread impact across a wide range of institutions within or between specific discipline areas.
ENOTHE was originally part of the Archipelago of the Humanistic Thematic Networks, which was formed of 18 Erasmus-Socrates Thematic Networks dealing with different areas and aspects of the Humanistic Arts and Sciences (http://www.archhumannets.net)
General aims of ENOTHE
To unite the European Occupational Therapy Educational Programmes and proposed Programmes (Institutes, Schools, Universities etc.) in order to advance the education and the body of knowledge of occupational therapy

To work with COTEC (http://www.cotec-europe.org) to promote occupational therapy education in Europe
Objectives
To stimulate European standards of occupational therapy education in higher education using WFOT standards and methods of quality assurance in order to reach mutual recognition

To introduce and promote ECTS (European Credit Transfer System) in occupational therapy education

To encourage the development of lifelong education in occupational therapy including the development of joint education/ European programmes

To provide assistance to institutions who wished to start occupational therapy education programmes (eg Central and Eastern European Regions) and to advise on potential resources
The ENOTHE Office
The original ENOTHE Office was based for many years within Hogeschool van Amsterdam in the Netherlands and led by Hanneke van Bruggen. In 2010 the Office moved to be hosted within Metropolitan University College, Copenhagen, Denmark and led by Gitte Mathiasson.  In May 2014 the Office moved to York St John University, United Kingdom led by Mandy Boaz. Since 1st June 2018, the ENOTHE office became a virtual office with a Coordinator and a Finance Administrator.