Greece '19
25
th ENOTHE Annual Meeting 2019 
The 25th ENOTHE Annual Meeting will take place on 17 – 19 October 2019, hosted by the  Department of Occupational Therapy, Metropolitan College, Athens, Greece.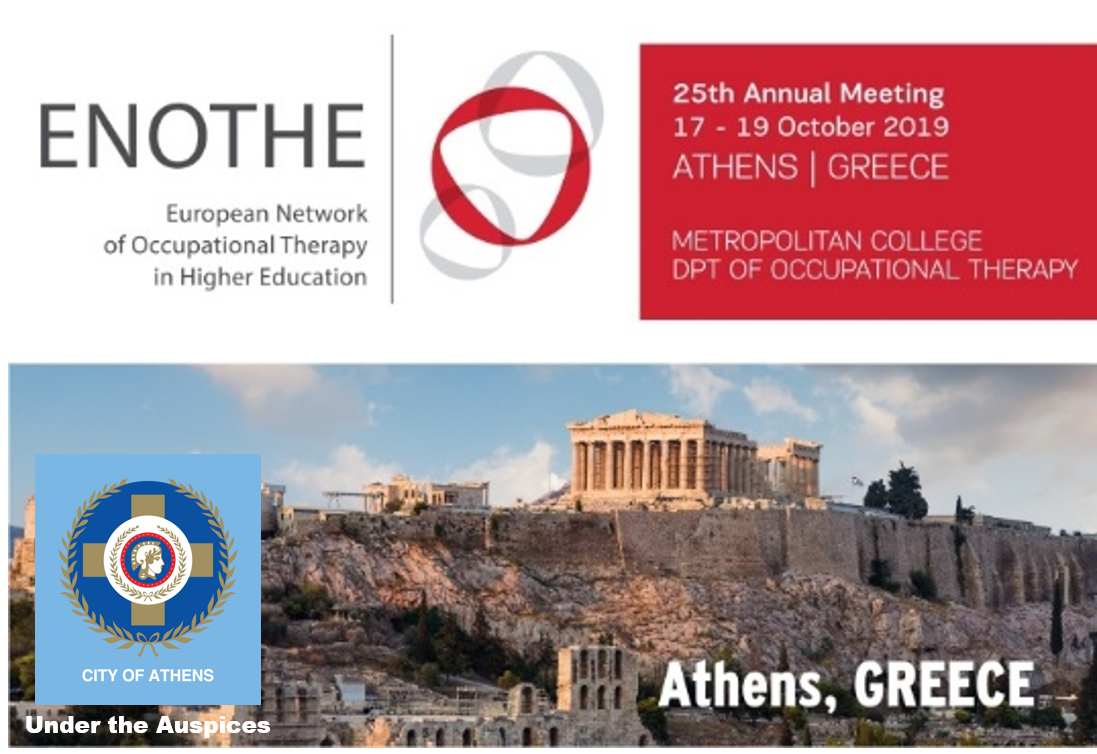 The Metropolitan College, BSc (Hons) Occupational Therapy, in collaboration with Queen Margaret University in Scotland is the first university programme in Occupational Therapy offered in Greece and is approved by the World Federation of Occupational Therapists -WFOT.
Themes | Keynote Speakers | Hanneke van Bruggen Lecture | Abstracts 
Programme | Marketplaces | Registration | About Athens
Hotels | Couchsurfing | Transport | Currency
---
SUSTAINABILITY MATTERS!
THEME 1: Sustainability in OT EDUCATION
Abstracts that present or discuss educational methods, issues and processes related to OT education that develops closely together new ways of improving student engagement and sustainable learning.
• Digital Education and Health (e-learning, blended learning, e-communication, and innovative technologies)
• Knowledge Assurance (assessments)
• Student mentoring & coaching
• Living labs
• Inter professional Education
• Development of international and intercultural competence
• Research Education and Occupational Science
• Education for Research (at different cycles-1st, 2nd and 3rd )
• Curriculum development and ENOTHE Academy (teaching the teachers)
• Quality assurance of Practice placement & Service Learning
• Capacity development: ENOTHE Academy. Teachers' further education: what is needed for the future to manage the challenges and to create sustainable education?
• Educational Scholarship
THEME 2: Sustainable and innovative matters in the Curriculum. Preparing students for the future.
Abstracts that present or discuss educational methods, issues and processes related to the development of OT curriculum that respond to societal challenges.
• Emerging fields
• Urban Development
• OT and technology
• Community work
• Interprofessional and intercultural
• Humanitarian crisis
• Service level modules
• Displaced people
• People in poverty
• Physical disruption
• Eco disruption and climate change (earthquakes, fires floating etc).
---
---
The Hanneke van Bruggen Lecture was created at the 16th Annual ENOTHE 2010 Meeting at Stockholm, Sweden, in honour of Hanneke Van Bruggen then, the outgoing Director of ENOTHE. In creating the Hanneke van Bruggen Lecture, the ENOTHE board wished to recognise and honour Hanneke Van Bruggen for her unending dedication and outstanding work in promoting occupational therapy in Europe and internationally.
The Hanneke van Bruggen Lecture will be held once a year during the ENOTHE Annual Meeting and will be awarded to an Occupational Therapist working in Europe. Other professionals that advocate the Occupational Therapy legacy and values are more than welcome to be invited for this honour. Nominators must be members of ENOTHE.
If you belong to an ENOTHE member institution you are welcome to present a nomination for the Hanneke van Bruggen Lecture. 
Please read carefully the HvB Lecture Nomination Guidance Notes and then fill out the nomination form here. 
Nominations period is now closed.
Nominee and nominators will be informed of the outcome by May 20th 2019 at the latest.
---
The abstract submission for the 25th ENOTHE Annual Meeting is done through an online platform. 
Please note that the information submitted will be the primordial reference for the annual meeting content related documents. It is the author's responsibility to submit correct information.
ENOTHE strongly advises all interested submitting authors to carefully read the 'Guide for Authors'. The Guide for Authors can be found on the first page of the submission process and here.
Abstract Submission period is now closed.
---
ENOTHE expects to release the programme of the 25th ENOTHE Annual Meeting by the end of May 2019.
General information about presentations:
Oral Presentation: maximum of 15 minutes (this includes preparation, presentation and questions time); 
Inspirational Oral: maximum of 5 minutes (intent to inspire colleagues and pitch ideas to generate innovation);
Inspirational VideoClip: maximum of 3 minutes. Videos will be shown on a continuous screening during the annual meeting. Inspirational VideoClip presenters will be expected to available over coffee breaks and lunchtimes;
Workshop: 90 minutes session;
Workshop – Boot Camp style: part-day 3H workshop session. Please notice that there is a coffee break half way through the session which all participants are entitled to access.
Workshop – Tandem style: 90 minutes session, composed of 15 minutes each presentations, followed by a (guided) forum discussion;
Meet-Up-and Meet & Greets: 1H session specific for ENOTHE projects, OT-Europe projects and SPOT;
Poster: size A0 (1189mm height and 841mm width), vertical orientation. Poster presentations will be allocated either Thursday 17 October , Friday 18 October or Saturday 19 October. Each day poster presenters will be expected to take down their individual posters at the end of each day by 17.00. Any left up after that time will be taken down and stored with the ENOTHE office for collection. Poster presenters will be expected to available over coffee breaks and lunchtimes. 
---
Marketplaces are designated sessions within the framework of the ENOTHE annual meeting aimed at promoting collaboration within and between occupational therapy education, research and organisations. Sessions will be timed to coincide with breaks in the programme so that delegates can visit and engage with presenters on a drop-in basis.
You may fill out your application for a market place here
Deadline: September 30th, 2019 (23:59 GMT)
You will receive confirmation and the decision on market place application, once the deadline period has ended. Any queries, contact info@enothe.eu
---
The registration fees for 2019 remain competitive and in return offer excellent value for money. 
The registration fee for all delegates, (students, teachers, practitioners and researchers) includes: delegate bag, lunches, coffee breaks, access to all presentations and access to all social events.
The fees are each subdivided based on the World Bank Economic Status of the country:
| Category by institute/organisation member country economic status | Lecturer/academic/researcher | Student |
| --- | --- | --- |
| High income | €350 | €150 |
| Upper-middle income | €275 | €125 |
| Lower-middle income | €200 | €50 |
| Retired lecturer | €200 | |
| Non-member | €500 | €150 |
To register, please complete the Registration Form here and return it to info@enothe.eu 
Deadline for registration: September 30th, 2019 (23:59 GMT)
Terms and Conditions
If you register for the Annual Meeting you agree to have your photo taken by conference organisers for publicity material.

You are eligible for a full refund if you cancel your registration by 30 September 2019.
You are eligible for a 50% refund if you cancel your registration between and including 1 October 2019 to the 11 October 2019.
You are not eligible for a refund if you cancel registration between and including 12 October to the 16 October 2019.
---
Athens, the capital and largest city of Greece, dominates the Attica periphery: as one of the world's oldest cities, its recorded history spans at least 3,000 years. The Greek capital has a population of 3.81 million (in 2011).
A bustling and cosmopolitan metropolis, Athens is central to economic, financial, industrial, political and cultural life in Greece.
Athens is widely referred to as the cradle of Western civilization and the birthplace of democracy, largely due to the impact of its cultural and political achievements during the 5th and 4th centuries BC on the rest of the, then known, European continent. The heritage of the classical era is still evident in the city, represented by a number of ancient monuments and works of art, the most famous of all being the Parthenon on the Acropolis, widely considered a key landmark of early Western civilization. The city also retains a vast variety of Roman and Byzantine monuments, as well as a smaller number of remaining Ottoman monuments projecting the city's long history across the centuries. Landmarks of the modern era are also present, dating back to 1830 (the establishment of the independent Greek state), and taking in the Greek Parliament (19th century) and the Athens Trilogy (Library, University, and Academy).
The Academy (Ancient Greek: Ἀκαδημία) was founded by Plato (428/427 BC – 348/347 BC) in c. 387 BC in Athens. Aristotle (384–322 BC) studied there for twenty years (367–347 BC) before founding his own school, the Lyceum. The Akademia was a school outside the city walls of ancient Athens. It was located in or beside a grove of olive trees dedicated to the goddess Athena.
http://www.visitgreece.gr/en/main_cities/athens will give you useful information on   Athens International Airport El. Venizelos (transport from and to the airport), Travelling to Greece, Health & Safety, Passports & Visas, Weather, Travel Tips and Sea Routes.
For social media input about Greece visit https://www.facebook.com/visitgreecegr/
---
We are pleased to announce that this year's event will take place in the Conference Facilities of the Royal Olympic Hotel – Athens.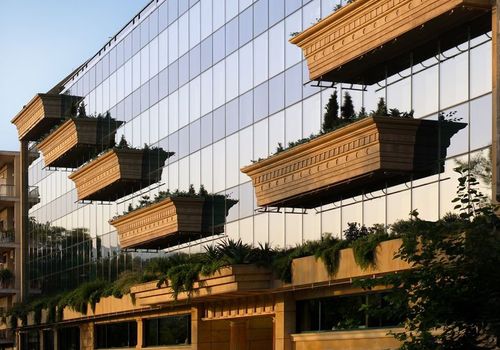 The Royal Olympic Hotel – Athens has kindly created a special booking link for all 25th ENOTHE AM delegates that wish to stay there, subject to the hotel's availability.
Please find the special booking link here.
Hotel's payment terms and cancellation policy regarding these room reservations apply. For more information on this, contact the Royal Olympic Hotel – Athens directly here.
The Welcome Drink and the Gala Dinner of the 25th ENOTHE AM will also be held at the Royal Olympic Hotel  – Athens.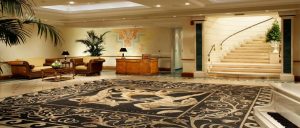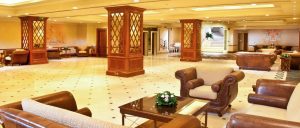 Welcome Drink at the Olympia Hall Foyer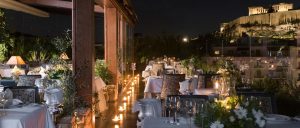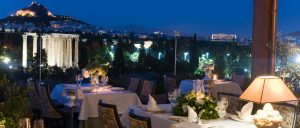 Gala Dinner at the Ioannis Roof Garden Restaurant
---
Couchsurfing is to stay overnight in someone else's home to minimise accommodation costs. We kindly ask those interested in this type of accommodation to search for local hosts in Athens on couchsurfing.com.
---
Athens is served by the International Airport Eleftherios Venizelos, which is located 20km east of the city centre. You may find more information on how to move around Athens here.
---
| Expense | Euro (€) |
| --- | --- |
| Meal, Inexpensive Restaurant | 8.00-15.00 |
| Meal for 2 People, Mid-range Restaurant, Three-course | 30.00-50.00 |
| Domestic Beer (0.5 liter draught) | 3.00-5.00 |
| Imported Beer (0.33 liter bottle) | 3.00-5.00 |
| Cappuccino (regular) | 2.00-4.00 |
| Coke/Pepsi (0.33 liter bottle) | 1.00-2.50 |
| Water (0.33 liter bottle) | 0.50-0.50 |
| One-way Ticket (Local Transport) | 1.40-1.40 |
| Taxi Start (Normal Tariff) | 2.50-3.50 |
---