General Board Member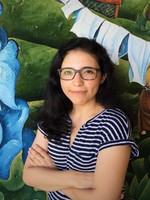 Lisette Farias Vera
(PhD)
General Board member 
(1st term: Oct 2018 – Oct 2022, 2nd term: Oct 2022 – Oct 2024)
Affiliation: Karolinska Institute, Stockholm, Sweden 
Roles/Duties for the year 2022/23: 
Strategic Aim 1: Education – Promoting Internationalisation: ENOTHE Board member contact person for 2023 AM and for 2022 Awarded Seed-Funded Project 
What is the main achievement of your career in OT?
Being promoted as Assistant Professor at the Division of Occupational Therapy (OT), at Karolinska Institutet (Sweden), taking on the role of ENOTHE board member, and being a member of the internationalisation group at my division. These roles involve strengthening OT education, leading pedagogical innovations and transformation of the OT curriculum to respond to global challenges, and fostering discussions regarding diversity, collaboration, and intercultural awareness.
What I have to offer to ENOTHE
My experience of studying and working with diverse occupational therapists and programs in North and South America, and Europe. In addition, I have collaborated in diverse international projects which have provided me with opportunities to gain experience in innovative methods, as well as build partnerships with practitioners, organizations, and researchers. Building on this work, I hope to contribute with my skills and what I have learned abroad to support students and peers in their educational development and projects.
What are your dreams concerning the future of ENOTHE?
To support ENOTHE development as a platform that enables collaborative work and knowledge exchange between their members and beyond to enhance OT education. I would also like to see ENOTHE as supporting OT Europe to respond to future professional and societal challenges.