Website and Social Media Update
Website Update
Traffic to the ENOTHE website is set to more than double during 2017. In 2016 we had a total of 160,721 visits. So far for 2017 the website has received over 102,000 visits – at this point in 2016 we had received 58,295 visits.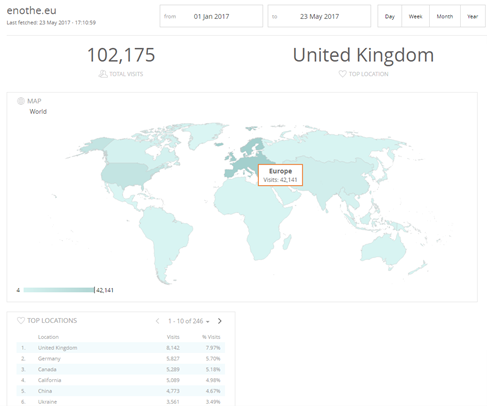 [ezcol_2third]However, these figures are not conclusive, as they do not account for unique visitors. At a glance 90-95% of visitors spend an average time of 59 seconds on the website. This means 5-10% of the total visitors are actively engaging with our website (up to 10,209 visitors).[/ezcol_2third] [ezcol_1third_end]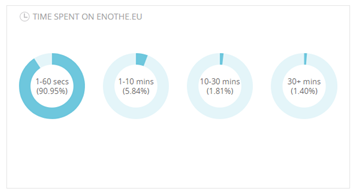 [/ezcol_1third_end]
The highest number of visits in one month took place in April 2017, with a figure of 24,926. This was a busy time, particularly as it correlated with our call for abstracts announcement. 
During the year the Office refined online processes to improve efficiency. We provided a facility for users to upload forms through the website. This enabled users to submit abstracts and other documentation related to the 2017 Annual Meeting directly. This year we have received the highest number of abstracts we have seen for a number of years. 
[ezcol_2third]In regards to membership, we have consolidated the old application form and questionnaire to provide a single application form. Towards the end of last year we provided an open list of
ENOTHE member institutions
accessible by the public, which will be adapted further with additional information. Also, we have added a calendar feature to enable you to follow up and coming events in Health and Social Care in Education. This is available in the side bar along with news and our Twitter feed.
We will soon be ready to implement an online forum so that sharing activities and communication between members can be progressed.
[/ezcol_2third] [ezcol_1third_end]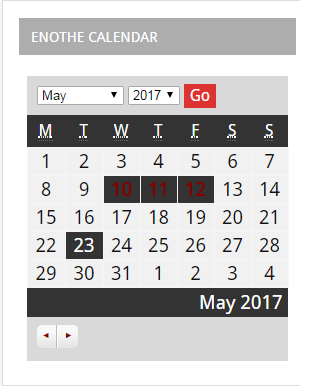 [/ezcol_1third_end]
We are always looking at ways we can improve our website. Please feedback your comments and suggestions. If you would like to help us, or if you have any ideas please contact the ENOTHE Office.
---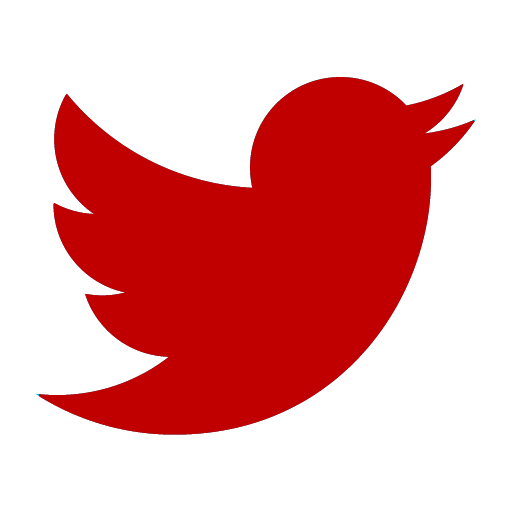 Twitter Update
[ezcol_1third]We have now reached over 1200 followers on Twitter, an 11% increase since last year.
For the next milestone we would like to reach at least 2000 followers by the end of the year. Can you help us in our attempt to raise the profile of ENOTHE and make Occupational Therapy more visible and valued across Europe?[/ezcol_1third] [ezcol_2third_end]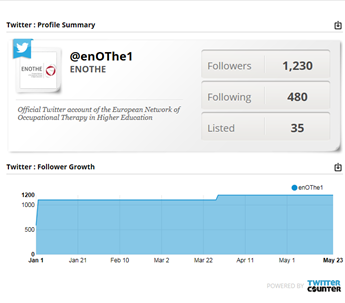 [/ezcol_2third_end]
---

 Facebook Update
[ezcol_1third]The official ENOTHE Facebook Page is attracting new 'Likes' daily. We have now increased our 'Likes' by 9% bringing our current total to 2,560.
It is evident from analysis that our most popular posts are when we share news of the latest publications in Occupational Therapy. These posts have had the most likes.[/ezcol_1third] [ezcol_2third_end]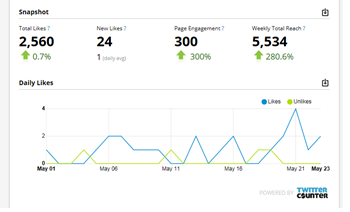 If anyone has any ideas for posts to increase engagement amongst our followers and to keep our momentum going on social media, please contact the ENOTHE Office. [/ezcol_2third_end]
We would love to continue to grow so please do share and connect with us.
Please remember to hashtag #ENOTHEZAG17 for Annual Meeting 2017 related posts.