2022 ENOTHE Annual Meeting Georgia submission period is open until May 31st!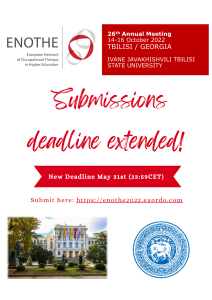 The 2022 ENOTHE Annual Meeting held in an hybrid format in Tbilisi, Georgia has its deadline for presenting submissions until May 31st. 
Find more about the Annual meeting topics and submission formats at the dedicated webpage: Georgia '22 – ENOTHE
or
submit directly at the dedicated platform: 26th ENOTHE Annual Meeting 2022 – Tbilisi, Georgia | Ex Ordo
We look forward to see you at the annual meeting either in-person or online.