2nd COTEC-ENOTHE Joint Congress 2020 (ABSTRACT SUBMISSION DEADLINE EXTENDED)
[ezcol_1third]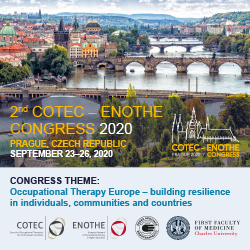 [/ezcol_1third] [ezcol_2third_end]
2nd COTEC-ENOTHE Joint Congress
September 23rd – 27th, 2020 – Prague, Czech Republic[/ezcol_2third_end]
The planning and preparations of the 2nd COTEC-ENOTHE Joint Congress is in full swing. There is only one year to go to the congress and we would like to remind you of the following:
Abstract submission is open and extended. Abstracts can be submitted until October 14 , 2019 so make sure you submit soon!
The theme of the Congress is "Occupational Therapy Europe – building resilience in individuals, communities and countries" In response to the positive suggestions on and questions about the theme the scientific and organizing committee emphasize that the congress aims to relate occupation and occupational therapy practice, research and education to the broadest interpretation of resilience by addressing the question: "In which way do you think your research, education and practice contributes to a resilient, more adaptable and flexible future of individuals, families and (professional) communities. Congress objectives are to share knowledge, discuss strategies addressing the challenges and barriers of resilience and identify best practices and experiences.
We welcome abstract submissions that represent the understanding resilience from an occupational therapy perspective, as well as those that present resilience models and its challenges from interdisciplinary point of view. We strive towards an inclusive and accessible congress. Applicants should not be concerned that indirect relation with the theme will be a reason to reject abstracts. Reviewers will be instructed aligned with the assignment of the Scientific Committee to create a program with resilience as a 'common thread' throughout. Reviewing the submitted abstracts is a crucial part of preparing the Scientific Program of the conference and Abstract reviewers will be selected from the registrations the Organizing Committee has received.
Registration opens in January 2020, make sure to register before the early-bird registration closes. Follow the dates on the Congress website www.cotec-enothe2020.com
The 2nd COTEC-ENOTHE Congress 2020 with over 1.000 expected congress delegates will provide excellent marketing and sponsorship opportunities to our partners. Please see the Partnership prospectus https://www.cotec-enothe2020.com/partners-and-exhibitors/ and contact the Congress
You are welcome to follow the Congress 2020 developments also on social media:
Facebook https://www.facebook.com/Cotec-Enothe-Congress-2020-240134583514522/ and Twitter @cotecenothe2020 
On behalf of the Organising and Scientific Committees we wish you all warmly welcome to the 2nd COTEC-ENOTHE Congress next year!
Warm regards,
On behalf of the Scientific and Organising Committees,
Ursula Gubler-Thomann (ENOTHE Treasurer), Soemitro Poerbodipoero (Vice President ENOTHE) & Anu Söderström (COTEC Vice President Administration)
For queries about abstract submission please contact: cotec-enothe2020@oteurope.eu 
Facebook https://www.facebook.com/Cotec-Enothe-Congress-2020-240134583514522
Twitter @cotecenothe2020