Winter Newsletter
In case you missed it, our latest newsletter is available online: Newsletter 7 (PDF 3,850 kB). 
This edition contains information on; preparations for the Annual Meeting in Zagreb taking place in October 2017, update of the 2-3 December Board meeting in Winterthur, new Board profiles, project updates as well as much more.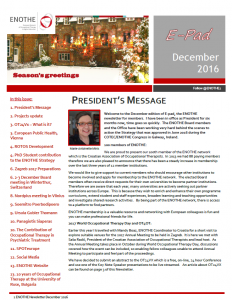 Would you like to feature in our Spring/Summer Newsletter?
Please share any recent activity, collaboration or event that has or will take place in your occupational therapy department since January 2017. The piece should be no more than 200 words and a photograph is required also. Please send your contribution to info@enothe.eu
Closing date for news or short articles is 7 April 2017.