Webinars
Webinar Presenter /Topic call is out!
Access here: https://forms.office.com/r/TXCRkuTDgj
---
Registration is required to attend ENOTHE Webinars. Deadline to register (and complete the ENOTHE non-member attendance fee) is until 1 working week prior to the webinar date. Registration link to attend webinars HERE. 
The platform of the ENOTHE Webinars is Zoom. Please mind online participation etiquette.
ENOTHE Webinars have 60min duration: 40min recorded presentation + 20 min discussion and evaluation.
Current Webinars
---
Past Webinars:
1st December, 2022 – 18:00CET
Brief description:
The network coordinators Jaime Daniel Leite Junior and Jens Schneider will present the "International Network on Sexualities and Genders within Occupational Therapy and Occupational Science (SexGen-OTOS)" in this webinar. The network brings together occupational therapists and occupational scientists from around the world who work, teach, study and/or develop research on sexualities and genders from occupational therapy and occupational science perspectives. Currently, the network has over 100 members from 18 countries. Their work recognizes the power relations that characterize societies and the ways in which these lead to the marginalization of individuals and groups. In light of this, the members are committed to the human, social, political, civil and occupational rights of all people, including the understanding that all different sexualities and genders should be respected and valued.
The network is structured into four working areas, one of which is "OT & OS education". The aim of this area is to initiate projects together with study and training programmes within occupational therapy and occupational science. The coordinators' presentation aims to shed light on the area of "OT & OS education". Initial recommendations will be provided on how sexualities and genders can be taught in study and training programmes within occupational therapy and occupational science. Finally, we will discuss a research project in the field of education that is currently being planned.
See the recording of the presentation here.
23rd June, 2022 – 17:00 CET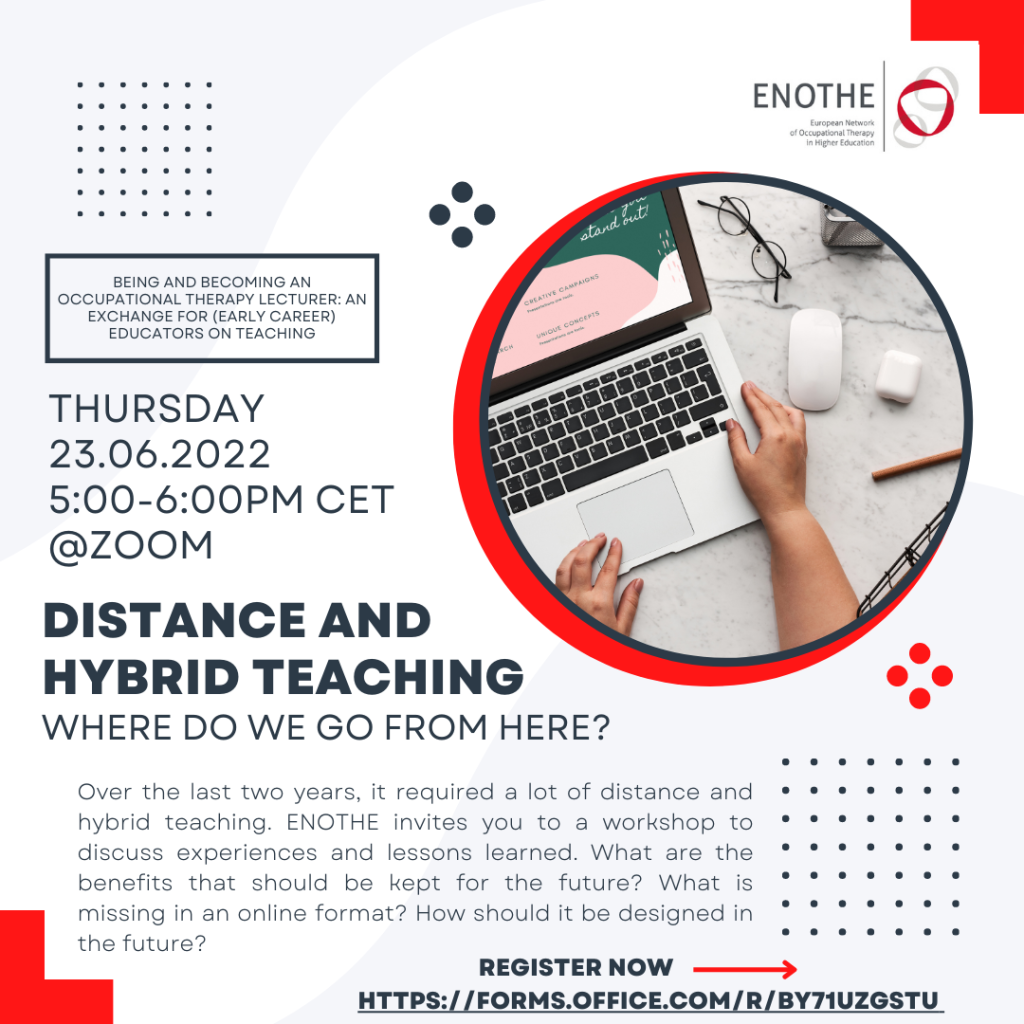 29th September, 2021 – 18:00CET
"COIL (collaborative online intercultural learning) in OT – COPILOT"
Speaker: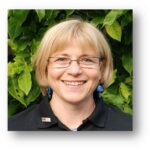 Elisabeth Fattinger
FH JOANNEUM University of Applied Sciences (FHJ)
Austria
Brief description:
New challenges and chances in our global, technology-focused, and fast-changing modern-day society require a new set of competences from young health care professionals, often referred to as "21st century" skills: cultural sensitivity, efficient collaboration in diverse teams, problem-solving, and critical and creative thinking. Collaborative online intercultural learning in OT education can make a huge contribution to the development of these skills and can reach all our students, not just those who go abroad. So– how can we provide it?
The Erasmus+ project COPILOT (Cooperative Online Peer & Intercultural Learning in Occupational Therapy), consisting of six OT degree programs from Austria, Belgium, Bulgaria, Sweden, Switzerland and the Netherlands, has created and tested a model, nine online modules, a manual with practical tips as well as supporting resources that allow you to implement this kind of learning in your OT program. For more information, please browse Course: COPILOT Webinar (fh-joanneum.at) (please register and then click "enroll as a student").
The webinar is meant as a hands-on introduction to COPILOT learning: After a brief survey of basics (model, material), we will go through the seven steps of implementation to show you how to use our OT-related online modules for collaborative intercultural learning at your institution. Time will be set aside for your questions!
See the recording of the presentation here. 
2nd June, 2021 – 18:00CET
"Integrating Occupational Science in a Competence-Based Curriculum for Occupational Therapy Program in Finland"
Speaker: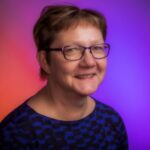 Annikki Arola, PhD
Principal lecturer in Occupational Therapy
Arcada UAS Helsinki, Finland
Brief description:
Higher Education has a responsibility to empower students with an innovative approach and competence to drive social change. These issues can be addressed by a recognition of Occupational Science (OS) as a core base in the Occupational Therapy (OT) education. This broadens the occupational therapists´ competence to work with occupational challenges that starts with individuals, continues to communities and advances to whole populations regardless of cultural context. In this webinar we will present and discuss the results of a long term and systematic work with a competence-based curriculum development in occupational therapy program. Curriculum was developed by choosing concepts from OS and to progressively integrate them in major subject throughout the OT studies.
See the recording of the presentation here. 
19th May, 2021 – 18:00CET
"Blended learning: integrating virtual and face to face teaching in occupational therapy programmes at the University of Plymouth"
Speakers: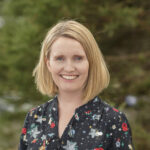 Fiona Fraser
Programme Lead for MOccTh (Hons)Occupational Therapy
University of Plymouth
United Kingdom
Brief Description:
This webinar will provide an overview of the transition into blended learning at the University of Plymouth though sharing some of the successes and the challenges faced. It provides an opportunity for all to reflect on blended learning and its future in occupational therapy education.
See the recording of the presentation here. 
21st April, 2021 – 18:00CET
"Internationalising the Curriculum (IoC) -how to start?"
Speakers:
Brief description:
Globalisation is step by step reshaping the landscape of higher education and making new demands of higher education institutions to prepare its graduate to the challenge of living and working in a globally connected world. The internationalised curriculum will acknowledge the importance of intercultural and international skills and knowledge and the ability to think and act in a local, nation and global context.
Ann and Lucie will unpack the IoC notion, present the key concept and the rationales for internationalising the curriculum. Further they will present a tool for starting and continuing the IoC process and some practical suggestion for the work.
See the recording of the presentation here. 
23rd November, 2020
"Preparation & delivery of an on-line simulated practice placement in occupational therapy during COVID-19 outbreak"
Speaker: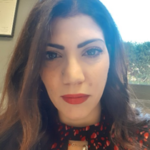 Elena Gliki, OT, MEd., BSc (Hons)
Programme Leader BSc (Hons) Occupational Therapy
Metropolitan College, Athens, Greece (Maroussi Campus)
Aim: to give an overview of the placement simulation and discuss ways to overcome the difficulties in occupational therapy education caused by the outbreak around the world.
See the recording of the presentation here.
---
Do you wish to suggest a webinar? Use this link.