The 23rd ENOTHE Annual Meeting took place on 26th – 28th October 2017 and was hosted by the Croatian Association of Occupational Therapists (H.U.R.T.), at the Hotel Panorama, Zagreb, Croatia.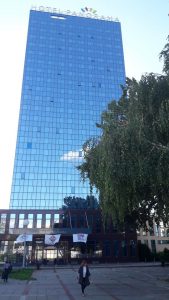 Over 300 delegates took part in presentations, workshops, seminars, posters and social events that took place during the event. In 2017 134 abstracts were accepted for the 23rd Annual Meeting making this one of the best attended over the last five years.
Thank you to Saša Radić and the Croatian Association of Occupational Therapists for all their great work behind the scenes before and during the conference. The contributions of the organising committee and the volunteers (made up of local students, teachers and clinical practitioners) added so much to the smooth running of the whole occasion. In addition, the handmade delegate bags were very special and appreciated by all the participants. 
We have uploaded photos of the Annual Meeting on our Facebook page, in the Zagreb, Croatia 2017 photo album. Some of the highlights are below: